Web of deception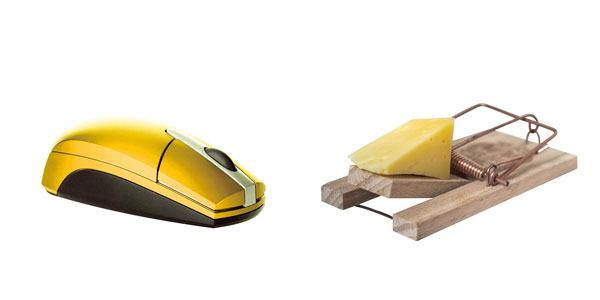 Ethical hackers are turning the tables on ransomware scammers
Forget e-sports and competitive video gaming – there's an increasingly popular blood sport that's sweeping internet video sites. Known as "scam baiting", a typical ruse goes like this: "White hat" (ethical) hackers trawl the web for malware that, once downloaded, produces a pop-up window suggesting a virus has infected the computer and provides a phone number for "tech support". These are generally aimed at the unwitting and gullible, but those taking the bait here are well-intentioned hackers.
Once contacted by phone, the scammer seeks to remotely take control of the caller's computer using remote access software. For the purposes of deception, as well as for amusement in the accompanying real-time video and audio of the computer screen and audio activity, the "victim" plays dumb as the phony tech support person goes through the nefarious motions of locking the computer's data files and completing the actions with a flourish – a scary-looking ransom note on the screen.
At this point, the "victim" will reveal himself or herself as a highly knowledgeable computer expert. Sometimes they merely question the scammers over the phone about the moral aspects of their trade. More satisfyingly, often they will have covertly gained access to the scammer's computer network during the remote-access link-up. Turning the tables, they will torment the scammer as a cat does a mouse, or simply cut to the chase and erase the scammer's entire network.
All you've got to search for is "scam baiting" videos – they make for some extremely entertaining viewing, especially if you've ever had a nasty experience with ransomware.