Home comforts for both the elderly and young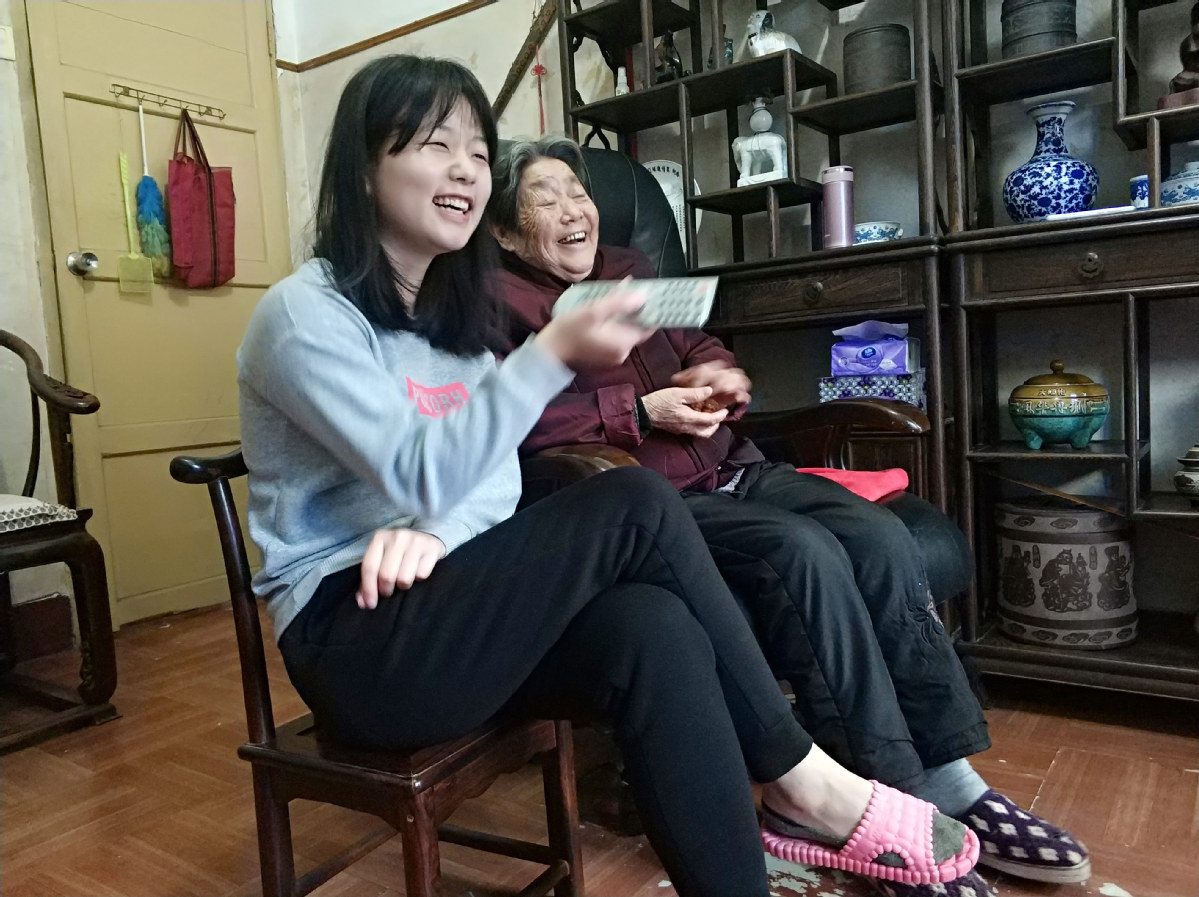 Over the past five months, Tan Peifang, 84, and Wang Xinhang, fresh from college, have lived together in the seaside city of Fuzhou in Fujian province.
They eat together, chat and go out for walks. To all extents and purposes, they look like a loving grandmother-granddaughter pair. But they are not related. Up until Wang moved in, they had never even met.
Widowed eight years ago, Tan chose not to move to live with her two sons working in the same city. Both were married and she thought it would be inconvenient.
So, she hired a nanny instead to take care of her.
That arrangement lasted until last year, when her nanny quit.
She was reluctant to find a new one as she had felt "uneasy" with the arrangement.
Tan then heard of a "cohabiting" program rolled out by her community - where thousands residents are age 60 or older. A tech company called Laoxiangqing (Senior with the Young) launched the program that aims to pair senior care seekers who can provide accommodations with younger people who need cheap accommodations.
The requirement: young people should take care of the elderly hosts - physically and psychologically - in exchange for free lodgings.
With no better options at hand, the widow signed up for the program, and in October she met the 24-year-old Wang. They immediately hit it off and built up a rapport.
"I like it when she says hello to me when she comes home and asks about my well-being, just like a granddaughter," Tan said.
The instant intimacy was also felt on Wang's side.
She described Tan as a smiling and caring person. "Granny likes spicy food, but she cooked mild food when I had a terrible cold," Wang said, adding that Tan would also comfort her if she had a bad day at work.
Since the program debuted in 2017, more than 1,600 people have signed up, according to Laoxiangqing.
The program was rolled out against the backdrop of a rapidly graying population. The National Bureau of Statistics figure shows that China had more than 166 million people age 65 or older by the end of last year.
Meanwhile, housing has become increasingly unaffordable for young people, with prices almost quadrupling over the past 20 years, reaching an average 7,892 yuan ($1,176) per square meter in 2017. The situation is even worse in first-tier cities such as Beijing and Shanghai.
There has also been explosive growth in rents in recent years, making cost an increasing burden for fresh graduates there.
Chen Xiaoqing, the Party chief who oversees the community project, said five senior residents in her community have signed up for the program, and said the program could be a win-win solution for the aging issue and the soaring house prices.
Hiring nannies has traditionally been the solution to looking after senior citizens, but Chen said this approach can often neglect the psychological needs of the elderly.
Despite the advantages, Chen admitted the "matchmaking" process was not easy, and the success rate was low because it had rigid requirements for its participants.
"The senior participants should be able to care for themselves, and the young should have a sterling character, and the pair should be of the same gender," she said.
But she added that the program is a wholesome attempt to find a way to look after aging residents.