University students win awards in international aeronautical model design competition
From April 3 to 9, the Xi'an Jiaotong University Airmodeling Team participated in the SAE International Aero Design West held in Los Angeles, USA, winning the singles championship for micro-group flight.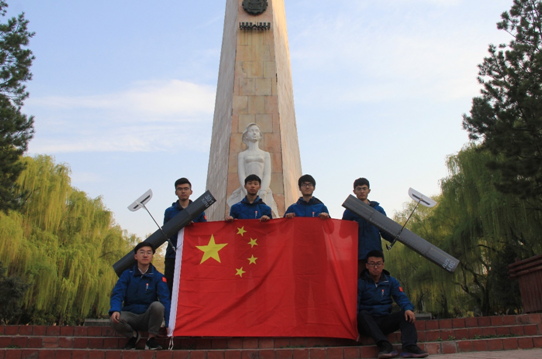 The Xi'an Jiaotong University Airmodelling Team [Photo provided to chinadaily.com.cn]
The team members also stood on the international championship podium with the first overall score after they competed fiercely with 56 university teams from nine countries, including the University of California, Berkeley, the University of Skyscryder, Queen's University of Canada, Warsaw University of Technology in Poland, and Kanazawa University in Japan.
The model airplane was designed and made for the competition by the Xi'an Jiaotong University Airmodelling Team. [Photo provided to chinadaily.com.cn]
The SAE International Aero Design West Competition has been held since 1986. It is organized by the American Association of Automotive Engineers and sponsored by Lockheed Martin, Boeing and SOLIDWORKS. It requires participants to conceive, design, manufacture, and optimize an aircraft that meets the requirements of the mission, and to provide a design report.
The competition is held every year in the eastern part of the United States, the western part of the United States and Brazil. It is divided into three levels: the regular group, the light group and the senior group. Several dozen countries and more than 200 teams participated in the competition.
The competition rules are designed by professionals combining modern technology and experience, and are meant to provide "REAL WORLD" design challenges for engineering majors.
The Xi'an Jiaotong University Student Aeronautical Model Team was established in 2002. It is a scientific and technological innovation society composed of undergraduates, master's and doctoral aviation enthusiasts from many colleges, grades and majors aimed at popularizing aviation sports knowledge and creating an atmosphere of campus aviation sports.
Since its inception, it has been focusing on the design and application fields of micro and solar-powered -aircraft. The student aeromodelling team carries forward the spirit of unity and struggle, constantly overcomes technical difficulties, and strives to build a high-quality student science and technology innovation platform at the Jiaotong University campus.
Over the past 10 years, the student aeromodelling team has won many awards in international and domestic aeromodelling competitions.
The predecessor of the association was established in 1944 as the Aeronautical Research Institute of Jiaotong University in Chongqing. Over the years more than half of the members of the Jiaotong University Airmodelling Association have devoted themselves to the aviation industry, with two becoming academicians of the Chinese Academy of Sciences, two academicians of the Chinese Academy of Engineering and two academicians of the American Academy of Engineering. They have contributed indelible strength to the development of the National Aviation industry.